17804 HWY 133 E
P.O. Box 66
Boscobel, WI 53805
(608) 375-2656

pmc@tds.net
Products
Fifth Wheel Type Running Gear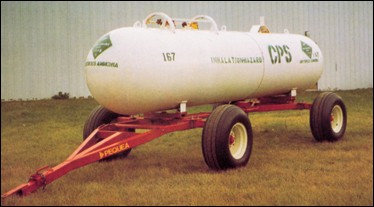 The PMC Fifth Wheel Wagon is designed with the operator in mind. This unit is ideal for both pre-plant and side dress operations. One of its most important features is the NEW unique oscillation system, giving it the ability to safely transport a fully loaded fertilizer tank across rough, uneven or hilly terrain without transmitting torsional stress to the tank. Please check out the many other fine features.

MODEL 566
Model 566 UNIQUE OSCILLATION
Gives you stabile 4 corner support with no twist to tank, yet allows plenty of oscillation.
High ground clearance but low center of gravity--20 inches of clearance, yet gives you reduced overall height because of oscillation feature.
Adjustable tread width -- 60" to 78".
HEAVY DUTY ADJUSTABLE TONGUE
Tongue is adjustable to three different lengths, and has quick latch for hitching.
SPECIAL HUBS
All models feature grease zerks and are filled with grease. This will reduce the cost of maintenance.
STEERING
Fifth Wheel steering allows for shorter turning radius and gives you straight tracking while being towed.
Steering King Pin - 1-3/4 inch diameter.
Wagon Reach is Heavy-Duty Sch. 80 pipe.
MODEL 576
The Model 576 has all the same features as the Model 566.
This unit does NOT have adjustable tread width.
Standard tread width is 78" only.
MODEL 588
Model 588 contains the same oscillation system, adjustable tongue and steering as the Model 566.
Model 588 has 2-1/4 inch diameter spindles with heavy - duty 8-Bolt hubs.
When application is very demanding use the Heavy-Duty Model 588.
The Model 588 has an adjustable tread width of 74" to 88".
MODEL 566H
Model 566H has all the same features as our Model 566 and more.
The extended height of the stub axles allows for a height crop clearance of 32 inches when mounted on 11L-15 tires.

Pequea Machine Corp reserves the right to change specifications without notice.