17804 HWY 133 E
P.O. Box 66
Boscobel, WI 53805
(608) 375-2656

pmc@tds.net
Products
Conversion Kit for Uni-Fit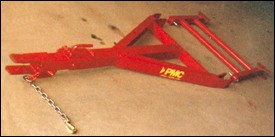 NEW CONVERSION KIT FOR UNI-FIT QUICK-HITCH ADJUSTABLE TONGUE

PEQUEA MACHINE CORP NEW UNI-FIT CONVERSION KIT FOR ANHYDROUS WAGONS.

Add an adjustable tongue to your anhydrous wagon. This new conversion kit is designed to put our unique adjustable tongue on any brand of anhydrous wagon.

SPECIAL FEATURES
Allows one person to hitch up the wagon easily.
(If you can back to within 3 or 4 feet of the tongue, you'll be able to hitch up on the first try)
Has adjustable length, with 3 different settings.
Can be used on 1000 gal. or 1450 gal. tank capacity.

Pequea Machine Corp reserves the right to change specifications without notice.