17804 HWY 133 E
P.O. Box 66
Boscobel, WI 53805
(608) 375-2656

pmc@tds.net
Products
Big Bale Transport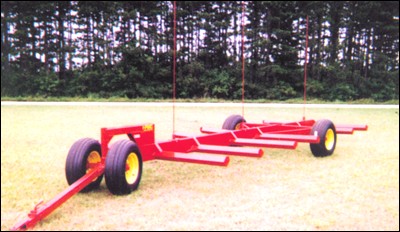 BIG BALE TRANSPORTS

MODEL 646
FEATURES
Tricycle Steering - Allows unit to support the full load and gives you 90 degree turning.
Capacity - 6 Bales 48 in. dia. to 75 in. dia.
Main Beam - 10 X 4 Rectangular Structural Tubing
Axle - Heavy Duty 8 X 3 tube with reinforced bridging
Cross Supports - 4 X 4 Square tubing set diagonally to cradle bale securely
Tongue - Adjustable hitch - Standard
Reinforced at all highload areas
3 Spring Loaded Guide Rods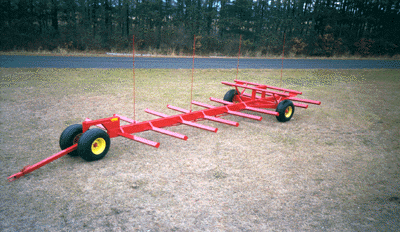 MODEL 848 FEATURES
2" Spindles on the front and 2-1/4" Spindles on the back for large load capacity.
Heavy Duty 8-Bolt hubs on rear.
Reinforced bridging on main frame for added strength.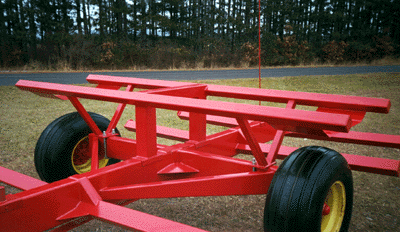 BALE CARRIER ATTACHMENT
Adds 2 more bales to your hauling capacity.
Attached with two U-Bolts
The Attachment is removable if so desired.
Can be used with Model 646 and 848.
MODEL 2003 SPEAR LIFT
Capacity - 2000 lbs.
3 Pt. Hitch - With category 2 or 3
Spear - 2 in. 1045 cold rolled steel x 48 in. long
Two stabilizing spears are 1in. dia. x 14 in. long
Constructed of all 1/4 in. wall, 4 in. tubing

Pequea Machine Corp reserves the right to change specifications without notice.